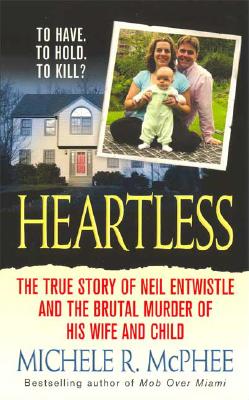 Stock Image
Author Name McPhee, Michele R.
Title Heartless: The True Story of Neil Entwistle and the Cold Blooded Murder of his Wife and Child (St. Martin's True Crime Library)
Binding Mass Market Paperback
Book Condition New
Type Mass Market Paperback
Publisher St. Martin's True Crime 2008-06-03
ISBN Number 0312947763 / 9780312947767
Seller ID 091216013
Mass market paperback in new condition
More Description
Neil seemed like a dream come true for Rachel: a handsome, impeccably mannered, success-oriented Englishman, the fairytale husband she had dreamed of meeting. By the time Neil and Rachel Entwistle were husband and wife, living the good life in a New England town, it was too late to guess the truth: that beneath Neil's good looks and manners was a deceit and darkness...
On a winter day in 2006, police came to the Entwistle home and found the decomposing bodies of twenty-seven-year-old Rachel and their nine-month old daughter Lillian Rose. Rachel had been shot in the head. Lillian in the stomach. And Neil was gone. Soon, authorities would begin a desperate search that would take them across the Atlantic to find Neil...and bring him to trial.
Price = 29.98 USD