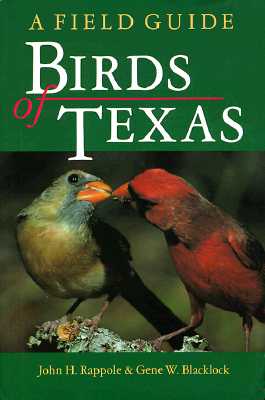 Stock Image
Author Name Rappole, John H.; Blacklock, Gene W.
Title Birds of Texas: A Field Guide (W. L. Moody Jr. Natural History Series)
Binding Paperback
Book Condition Used: Like New
Type Paperback
Publisher Texas A&M University Press 1994-03-01
ISBN Number 0890965455 / 9780890965450
Seller ID 126540
Trade paperback in like new condition
More Description
There are certain pilgrimages that "must" be made by the serious North American birder: Santa Ana in the lower Rio Grande Valley, Hawk Mountain, Aransas National Wildlife Refuge, Delaware Bay, the Everglades, High Island, Point Reyes, and Big Bend, to name a few. It is no accident that many of these ornithological shrines are located in Texas, which has the most diverse avifauna in North America north of Mexico. Texas comes by this enormous diversity honestly, with rugged mountains, vast deserts, lush semi-tropical woodlands, prairies, bayous, cedar brakes, thorn forests, and one of the richest temperate migration corridors in the world located along the western Gulf Coast.
"Birds of ""Texas"" A Field Guide" provides an introduction and ready access to this spectacular variety. The text provides detailed information on identification, habitat preferences, voice, seasonal occurrence, abundance, and distribution. Maps show precisely where in the state the bird can be found. Photos of the bird in the field put the species in the proper visual context for identification; in fact, the photos for over half of the 622 species were taken in Texas. Texas is a unique region of the hemisphere, and its birdlife is an important part of what makes it special. This book will be useful to the beginner and the experienced birder alike.
Price = 4.95 USD