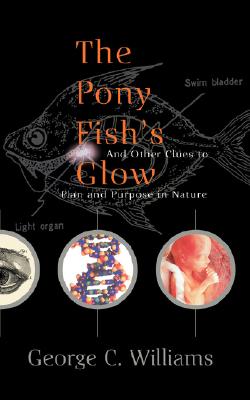 Stock Image
Author Name Williams, George C.
Title The Pony Fish's Glow: And Other Clues To Plan And Purpose In Nature
Binding Paperback
Book Condition Used: Like New
Type Paperback
Publisher Basic Books 1998-09-25
ISBN Number 0465072836 / 9780465072835
Seller ID 123601
Trade paperback in like new condition
More Description
We may regard ourselves as the most advanced species on the planet, but have we really reached our optimum design? Isn't there always room for improvements? Before you answer, let noted evolutionary biologist George C. Williams remind you of both the exquisite adaptations and absurd maladaptations nature has bestowed upon us, the self-proclaimed "pinnacle of evolution."Picking up where Darwin left off, Williams combines philosophical perspective and scientific method to provide a foundation for the answers to some fascinating questions. He explains why our bodies have to deteriorate so disastrously with old age. He gives us logical reasons to explain why we crave foods like sugar and fat that have been proven time and again to be detrimental to our health. And Williams single-handedly deflates our "Homo sapiens sapiens" ego with such insights as: Our eyesight--it may seem superior, but not when compared to that of the invertebrate squid, whose eye has developed over time to prove more efficient than ours. And wouldn't it make more sense to have a third eye, located on the back of the head? We could have stereoscopic vision in front and rear-vision warning us of danger sneaking up behind. Rear-view mirrors would become a thing of the past. And why stop at three eyes?This fascinating new book is markedly different from all previous work on evolutionary biology. Using the pony fish and its luminescent abdomen as the perfect evolutionary mystery, Williams explores the intricacies of nature's designs. Rather than telling us how or why the pony fish got its light, Williams explains the functional reasons why the pony fish keeps its light. He also explains why our species keeps arbitrary or malfunctioned features like the reproductive and excretory systems' sharing of parts.George C. Williams, one of today's most qualified evolutionary biologists, has written an important, entertaining, and thought-provoking addition to a science that has captivated the world for almost 150 years.
Price = 1.99 USD