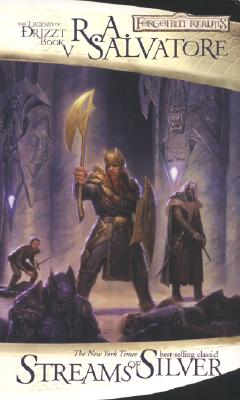 Stock Image
Author Name Salvatore, R.A.
Title Streams of Silver: The Icewind Dale Trilogy, Part 2 (Forgotten Realms: The Legend of Drizzt, Book V) (Pt. 2)
Binding Mass Market Paperback
Book Condition Used: Very Good
Type Mass Market Paperback
Edition Later Printing (3rd)
Publisher Wizards of the Coast 2007-05-08
ISBN Number 0786942657 / 9780786942657
Seller ID 127474
Mass market paperback in very good condition
More Description
The epic tale of everyone's favorite dark elf, Drizzt Do'Urden, reaches new heights
Drizzt Do'Urden struggles with his own inner voices, voices that call him back to the pitiless depths of the Underdark. But louder still are the voices of his newfound friends, and the dream that drives Bruenor Battlehammer on to reclaim Mithral Hall. Time and again they're told to turn back, that some dreams can never be fulfilled, but on they fight -- together.
Price = 2.75 USD